Hypermart Solutions as MEDIA & BROADCASTING Consultant
Both established and emerging players must replace the current value proposition, look beyond the mass media and segmented media strategies and develop business models, build alternative distribution strategies in order to capitalize and remain relevant to the consumers. We work alongside our clients, from long-standing media leaders to newer entrants, to:
Help transform their businesses
Identify new sources of growth in the digital world
Launch new channels
The secret behind our success is our passion to introduce the latest technologies and trends in the broadcasting industry and our understanding of customer service. Our core values are flexibility and reliability. In addition we understand that every customer is unique and deserves an individual solution. Their success is the best motivation for Hypermart Solutions and its goals.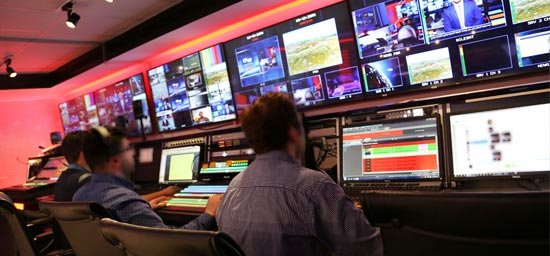 ONE-STOP BROADCASTING SOLUTION
Our team consists of highly experienced industry professionals with hands-on experience from all facets in Media and Broadcasting ranging from launch of new TV stations and services, over the creative process of team development, pre and post-production, to technology workflow, innovation and implementation, multi-platform delivery and device development - and everything in between.
BROADCAST ENGINEERING, DESIGN AND OPERATIONS:
Scope definition, requirements, vendor evaluation and selection, Apps and service planning and development for multiscreen. Streaming, Video-on-demand (VOD), Over the Top (OTT) .Technical strategy, architecture, and design . Hybrid Broadcast Broadband TV (HbbTV) , SAT-to-IP, DVB-to-IP, DVB-T2 and T2 Lite , Compliance with broadcast standards , Broadcast technology procurement , Studio and broadcast facility design , Backend platforms CRM, BSS, OSS , Set Top Boxes and mobile devices . Programming acquisition and content licensing , Revenue generation and service monetization , Regulatory impact, standards and compliance , Social Media/TV strategy and integration ,Cross-platform, Multi-Screen strategy , Operating model optimization , Service design and launch , Market & service analysis ,Program development , Concept development ,Content partnerships , Triple and Quad Play, Confidence and credibility on the screen ,Long-form and feature storytelling ,Live TV continuity and workflow ,Development and evaluation ,Storytelling under deadline ,Interview techniques .
WORKING WITH US :
We approach consultancy engagements from a commercial perspective, with the aim of adding significant value to your business by identifying and pursuing: Growth opportunities create products, services, and businesses that improve the efficiency, productivity, and profitability of your business.
We consider you, as a partner. Our mission is to understand and utilize the resources within the company to unlock the full potential and expand your business and revenue beyond the traditional offering. We bring with us our values of professionalism, integrity, respect and care, riding on the back of years of experience in international broadcasting. One of our fundamental paradigms as consultants is that, although we value long-term partnerships we are a temporary resource, and our utmost objective is that when we leave, we will have added important value to your company and its people.
News Room Computer System
Hypermart Solutions Ltd offers end-to-end News Room Automation services at quality levels defined by global standards and trusted by broadcasters worldwide. Newsrooms face significant production challenges, especially in today's competitive environment. Constant connectivity, large data sets and fast production automation are some of the key factors to building a strong broadcast offering. Managers are required to produce more content in different formats for multiple channels and platforms. It is a complex and demanding environment often saddled with budget and staffing constraints. Whether customers today are managing a mid-sized local newsroom or a large, multi-site news operations, they are certainly looking for ways to do more with less while maintaining high quality standards. Hypermart Solutions's News Room Computer System is designed to meet the complex requirements of media networks, production houses and entertainment companies. The system includes News Room Automation, end-to-end video production and all the hardware components necessary for smooth operations. It features the same high quality tools that are used by some of the world's most respected broadcasters.
An innovative file based workflow brings in unprecedented efficiencies. The solution is simple, powerful, and features many functions like converting traffic logs to a playlist, using drag and drop playlists, trimming, and viewing, without purchasing additional products. This saves customers money, and makes the solution easy to use. The NRCS system takes care for all the key areas of the broadcast chain such as collaborating, exchanging information and getting on air quickly. The system integrates all the media used in today's fast moving news presentations. It also organizes live or recorded news content such as video, texts, stills, news agency stories, CG, graphics, etc. for inclusion into the run order. Hypermart Solutions's newsroom solution has gained popularity and recognition worldwide.
Hypermart Solutions Solutions for Distance Education include :
Virtual Classroom/e-classroom
Wi-Fi Campus
Virtual Library
Guest Lectures Through Internet or WAN
Audio/Video Conferencing
Media Lab
HPC (High Performance Computing)
The main modes of communication are audio, video and computer enabled. Audio technologies involve the transmission of audio (voice) between learners and instructors, either synchronously or asynchronously. Examples of asynchronous transmission include audio-conferencing and short wave radio; while examples of the asynchronous transmission include audiotapes or audiocassettes. Video for distance learning, like audio, can be used in either synchronous or asynchronous modes. Synchronous Videoconferencing, or interactive television, is when there is an opportunity for live visual and verbal interaction between instructors and learners. Asynchronous instructional video tools include slow-scan video, interactive videodiscs and videotapes. Computer-assisted learning or instructions can be defined as learning mediated by a computer, which requires no direct interaction between the user and a human instructor in order to run. This practice is becoming increasingly common. Examples include: the Internet, email, synchronous and asynchronous computer-mediated communication applications and interactive multimedia applications on CD-ROM.
Hypermart Solutions Computers provides whole integration in Tele-education. Its comprises of Video and Audio two way communication between students and the Instructor. Every Student can raise queries regarding any topic at any time with their computers and then a pop-up shows up on the Instructor's Screen. Audio technologies involve the transmission of the spoken word (voice) between learners and instructors, either synchronously or asynchronously.